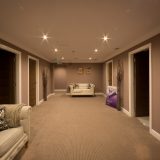 The Waterton Park Hotel & Spa, Wakefield
Project Brief
Set on an island and surrounded by acres of glorious rolling parkland, The Waterton Park Hotel & Spa is one of the finest hotels in the region. As well as providing an ideal country hideaway, it is also a delightful venue for conferences, business events, and picture-perfect weddings.
Quality is paramount at this gracious, Grade II listed venue, so when the spa and conference suites needed a facelift, the management knew that they had to find a builder with the skill, capability and sensitivity to fulfil this complex and demanding task.
Construction with a WOW factor!
CoreBuild was appointed to manage and deliver the project – a new extension housing the reception area, spa and treatment rooms and conference facilities. The brief was to amaze and impress the hotels' many clients. The entire project had to be completed to a tight deadline, as the hotel was due to host a wedding which would make use of the new facilities. In addition, the hotel and spa had to remain operational throughout the build.
The show must go on
Expert management is as important as construction skill in any build. In this case, the need for operational continuity demanded particular care to ensure that everyone – hotel clients, staff and visitors, as well as the build team themselves – were always safe and that all necessary facilities remained open, functional and secure. CoreBuild ensured that all this was delivered in full, along with a high quality finish that was not only on-spec, but also within budget and ahead of schedule!
Testimonial
We were delighted with the overall finish of the work. As the leading hotel for the Wakefield area, it was vital that we had conference and spa facilities which matched the high quality service we offer. We wouldn't hesitate to recommend CoreBuild to anyone in need of quality building contractors.
Hotel's Director